The Truth About God - A Women's Community Bible Study
June 4th - July 16th, 2018
Are you hungry to know who God really is?
Not who society says He is.
Not the puny character sketch some settle for.
Not how the media labels Him.
If you're looking for truth with a capital "T", this study will engage your
heart and mind and enlarge your vision of God .
Study Guides are $6 and will be available for purchase Sundays at the Women's Summer Bible Study Information Table and at the study sessions.
Classes meet Mondays, June 4- July 16 (NO meeting JUNE 11), 7-8:30 pm in The Hall.
Who can register?
You can! If you are a woman 18 to 80+, whether it is your first study or your 50th, God will teach you something new about how His Holy Spirit works in your life.
What can I expect?
Each session will include prayer and teaching as well as time for discussion in small groups. You'll build relationships with each other and Jesus. Your table leader will encourage you, pray for you and walk beside you as you explore God's Word together.
Can I miss a week?
Each session is designed to stand on its own. If you miss one, you'll not be lost when you return. Don't let missing one cause you to miss them all...come when you can!
What if I have more questions?
Stop by the Women's Community Information Table on Sunday mornings, May 13– June 3 or contact Brenda Warner at brendajwarner@gmail.com or 317-418-7450.
I Believe - A Men's Summer Bible Study
June 20th, 2018
Why do our beliefs matter?
What are the essential beliefs of the Christian faith?
What do we believe as a local church?
What do I believe?
These are just 4 questions we will explore in this summer's 4-week Bible study for men called "I Believe". Join Rick Grover, Dave Faust, Grant Scott and Ned Campbell as they "tag team teach" on Wednesday nights from May 30 to June 20 in the Sun Room.
Each night will involve big group teaching and small group discussion time. Each night stands alone, so if you miss one, no big deal. But hopefully you can make all four! There is no cost -- just bring your Bible!
If you have any questions about the study, contact Grant Scott at grants@east91st.org or (513) 254-1164.
Young Adult Castleton Clean Up
June 23rd, 2018
Hey young adults! Help out our local Castleton area by joining together in an effort to clean up several blocks as a team. We're meeting at E91 front entrance on Saturday, June 23rd at 9am and heading into the neighborhoods to pick up trash and beautify our community. After a few hours of cleaning we will grab a bite to eat somewhere nearby around 12 or 1pm. Registration encouraged but not required. Clean up materials to be supplied by E91!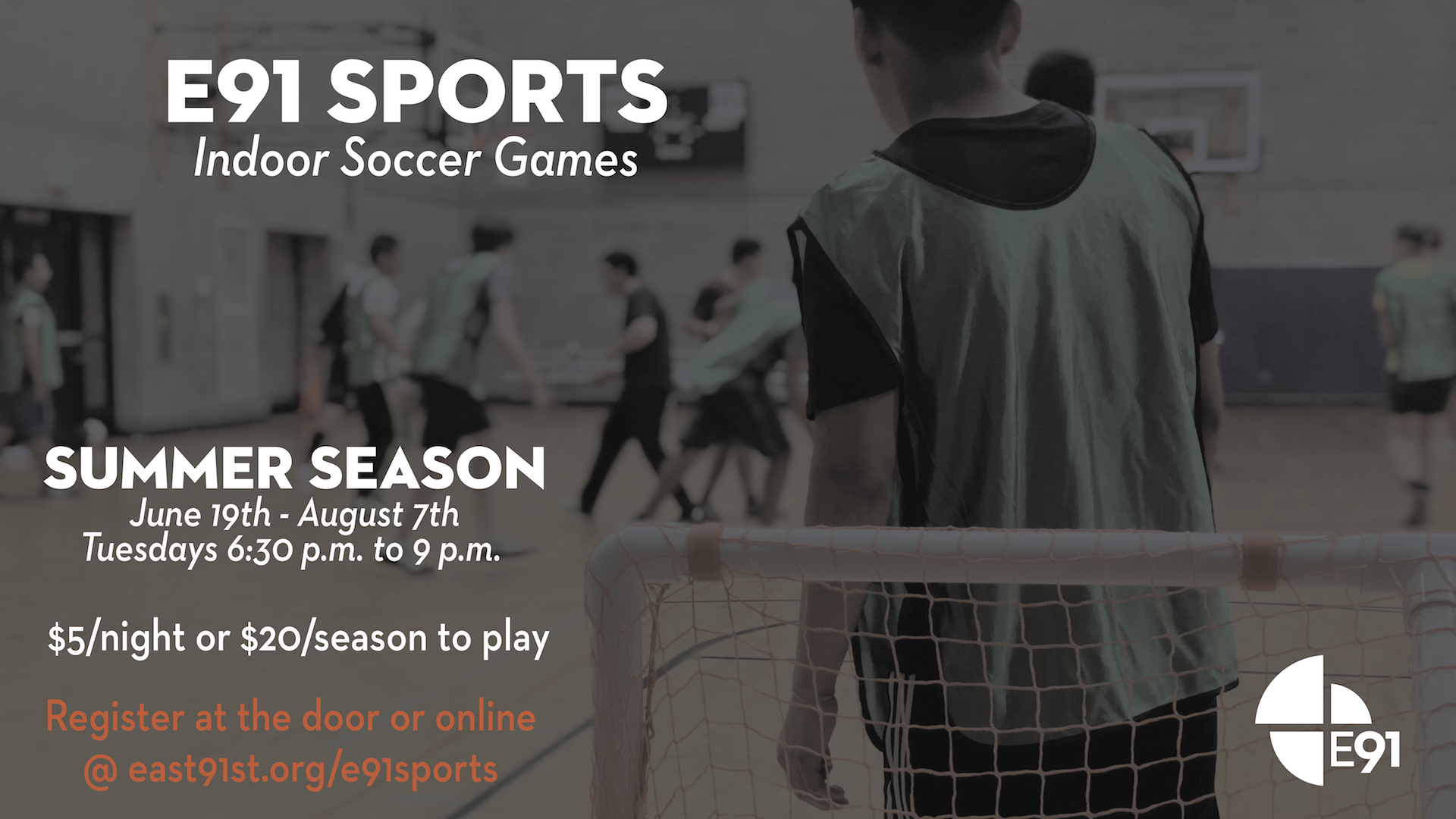 E91 Sports Summer Soccer
June 26th - August 7th, 2018
$5 - $20
Come out for E91 Sports Summer Soccer Season and help support soccer outreach in Brazil. 100% of proceeds go to help support a program for soccer in Brazil.
Season Dates: June 19th through August 7th
Time: 6:30 p.m. to 7:00 p.m. Warm Up & 7:00 p.m. to 9:00 p.m. games.
Games will be 10 minutes long and you must be 16 years or older to play.
Each week the teams are different and people are placed on teams as they check in. No more than two people from the same group may play on a team together in order to keep teams evenly balanced.
Questions? Contact Jordan Shelton at JordanShelton02@gmail.com
Ministry Leadership Teams - BBQ
July 8th, 2018
CIY Mix - Middle School
July 9th - July 13th, 2018
$10 - $350
CIY MIX is a four-day summer conference specifically designed for students in sixth, seventh and eighth grades. It is intentionally crafted in ways that will engage middle school students through tactile, interactive and fun activities coupled with Bible-based teaching and small group interaction. Students will experience incredible worship and some of the best speakers available.
Sometimes talking about Jesus creates more questions.
If I'm not hurting anybody, why can't I do what I want?
Is Jesus the ONLY way to be saved?
There are some Christians I don't like ... Is that bad?
What if I don't believe everything people say about Jesus?
How can I be sure that I'm really, really saved?
You're not the first to ask these questions. Even Jesus' best friends asked questions like these. In fact, Jesus' friend and disciple, John, wrote a letter to other Christians addressing some of these questions. And John's answers about what it means to follow Jesus makes it really clear. Join us at CIY MIX as we help middle school students understand John's answers to these big questions, by looking at God's family in comparison to the world's chaos.
Join us July 9 - 13 in Marion, IN at Indiana Wesleyan University
Student Registration -
Early $300 thru 4/15 (Use discount code EARLY)
Regular $325 thru 5/20 (Use discount code REGULAR)
Late $350 thru 6/24
** $50 deposit can be made.
Balance must be paid in full 2 weeks before the beginning of the trip.
Leader registration fee $10.00
Limited scholarship funds are available. If requesting scholarship funds, please email Kathy Dix at kathyd@east91st.org.
Young Adult Breakfast @ Shepherd
July 15th, 2018
The Shepherd Community Center in Indianapolis works with neighborhood youth and families to break the cycle of poverty. Join the E91 Young Adults as we provide and prepare breakfast for 120-180 people! We need a minimum of 8 people to prepare the food on Sunday morning, and we'll be done in time to catch the 11:15 service at E91.
Young Adults Tubing on White River
July 21st, 2018
Young Adults are invited to go tubing down the White River! We'll push off around 1:15 pm and float until we get to the end. We'll coordinate cars ahead of time, so we'll have enough seats to get everyone back home. There is no cost, but you'll need to bring your own inner tube (check Wal-Mart for the best prices). Don't forget to bring sunscreen and a bottle of water!
Women's Community Luncheon
August 5th, 2018
Please choose a dish to bring (not required). If bringing something, please have at least 8 - 10 servings.
5-on-5 Hoops Tourney - Men's Activ8 Event
August 18th, 2018
5-on-5 Hoops Tourney
Date and Time: Sunday, June 18 from 11 am - 6 pm
Full-court, 5-on-5 basketball tourney in double elimination format (2 games guaranteed). Teams of up to 8 players of any age.
This event is a "Men's and Boy's Only" event.
Registration: Required - deadline is Monday, August 1
(Team Captain can register all players)
Cost: Free
Location: East 91st Christian Church Gym, 6049 E 91st St., Indianapolis
Questions - Contact Chris Mindach
(765)661-1367 / chris.mindach@gmail.com
E91 MOPS 2018 - 2019 Registration
September 7th - September 13th, 2018
$0 - $32
E91 MOPS meets September to May. Child care is included for children preschool age and younger. We have two different meeting times to choose from. Pick the day that best matches your schedule:
1st & 3rd Fridays from 9:30 AM - 11:30 AM
2nd & 4th Thursdays from 9:30 AM - 11:30 AM
What is MOPS?
We are a group for any and all moms of kids from pregnancy to kindergarten. We encourage and equip moms of preschoolers through friendships, fellowship, mentoring, speakers and a warm brunch! Mothers of Preschoolers (MOPS) is an international organization that believes better moms make a better world. MOPS exists to encourage and equip mothers of young children. Check out the MOPS International website at http://www.mops.org/about/about-us/
What can I expect when joining a MOPS group?
MOPS is a community of moms that want the same thing you do - to be the best mom they can be while not losing sight of your own identity as a woman. MOPS is a place for encouragement, advice, fun and fellowship. You will have a table leader to guide the conversation during meetings and to help plan activities outside of MOPS. There is also a mentor mom at each table (older, wiser mom who is passed the little kid phase) to help with questions and provide encouragement. Our tables sit together at meetings and get together for play dates and mom's night outs outside of MOPS meetings.
What is a MOPS Meeting Like?
We start our meetings with a warm brunch that we take turns bringing. We have time to chat and catch-up on life before hearing a speaker on topics relevant to the busy life stage of mothering young kids. After the speaker, we have some time for discussion before heading out to pick-up our kids. E91 MOPS is a place where you can come as you are, get a break from the relentless duties of motherhood and connect with other women!
I've never left my kids before! What is child care like?
All of our child care workers are background checked, trained and LOVE kids. Your children will hear a Bible story, learn Bible songs, have time to play and have a snack. Our child care workers look forward to seeing your kids each meeting!
How much does MOPS cost?
You will pay $32 at registration. This holds your spot and registers you with MOPS International. This is non-refundable since it is paid to MOPS International. Our semester dues of $50 are due in September and January. The semester dues fund our group's expenses such as child care and brunch supplies. Scholarships are available on an as needed basis. Our MOPS group fundraises throughout the year to keep dues affordable for all families. About half of our budget comes from fundraising! If you would like more information on a scholarship, please contact us at e91mops@gmail.com.
Service Requirement
We ask each member of our group to help out in some way throughout the year. We are a big MOPS group serving 128 families and it takes a lot of work to keep our group running smoothly. As a ministry, we want to serve one another well. *NEW this year, and on that note, we are requiring each mom to serve ONCE per year in MOPS Kids on either Thursday or Friday. An online Sign-up Genius will be emailed as we approach the beginning of the MOPS Year, and spots will be filled by first come, first serve. This will give our benefit our group in really great ways; 1) it will give us flexibility in fundraising (since childcare is our biggest cost), 2) it will help us ensure our required numbers for childcare workers to maintain ratios, 3) it will give you the opportunity to see what happens in the classrooms. (And, NO, you will not be required to help in your child(s) class(es). Also, *NEW this year, each mom must also select a MOPS Team to serve on, see details below. There is an option to contribute an extra $20 instead of serving on a Team. For each Team, you would would work together with the dedicated Steering Team Leader for details.
Here are the Team options, with brief examples of what duties may entail.
**Hospitality Team: Arrive early to help set-up the room for our meeting; setting tables, brewing coffee, setting up the brunch table, setting up the swap table and cutting casseroles as they arrive. Stay late to help clean-up the room after our meeting; clearing tables, putting away all MOPS supplies, putting coffee away and washing any dishes that are left behind. Be a connection at Playdates and/or MNOs. Help prepare any crafts for creative activities.
**Fundraising Team: Setup, tear down, decorate at Fundraising Events. Call Area Business for Donations; you will receive a list of businesses to call and a script to use to ask for donations. Work with team to setup, execute, deliver Silent Auction items.
**Prayer & Care Team: Help setup and put away MOPS Swap items. Meet and pray with other moms who are on this team. Help gather gifts for new moms, pregnancies, babies, etc. Help deliver gift baskets to moms in need.
Waitlist
If you are registering for a day that is on a Waitlist, you will not pay anything at registration. As room is available, the MOPS Coordinator will contact you and payment will be made at the first meeting you attend.
Donating to MOPS
Keeping MOPS affordable for all families is very important to us. Please consider helping our group meet our fundraising goals through donating. Donations to MOPS are tax deductible! There are several donation options available through this registration. Please consider helping our group meet our fundraising goals through donating.
You can contact us at e91mops@gmail.com with any questions or problems with registration. We look forward to seeing you in September!
24 - a Men's Retreat
September 7th - September 8th, 2018
$0 - $70
This is a 24-hour retreat for all the men of E91 to get away and connect with other men as we reflect and explore together how we grow and develop as disciples of Jesus.
Our guest teacher will be Shawn McMullen, Pastor, Author and Editor of The Lookout magazine. One area of focus for the retreat will be helping men develop in their practices of prayer.
Group sessions will consist of worship, teaching, discussion and prayer.

Individual time will be provided for personal reflection and prayer.

Activities will include a choice of outdoor recreation activities including hiking, fishing (bring your own gear), trap shooting, knife throwing...and Pie Fellowship and late night movie!
Cost of the retreat is $70 and covers food and lodging. Men will need to bring 1) their own bedding and towels 2) a homemade pie 3) pocket money for some recreation activities. Scholarships are available (contact Ned Campbell below).
The retreat will be held at Twin Lakes Camp and Conference Center in Hillsboro, IN (about 75 min drive from E91).

More info and directions at www.twinlakescamp.com .
Check-In time at the camp is 4 - 6 pm on Friday, September 7.

Departure time from camp back to Indy will be 4:30 pm on Saturday, September 8.

Men are on their own for transportation, but are encouraged to car pool and use it as another fellowship opportunity.
Contact Ned Campbell at ned.jubilee@gmail.com or (317) 517-0512 for questions.
MOMS in the MIDDLE 2018-19
September 14th - May 24th, 2019
$20
MOMS in the MIDDLE is open to moms who have at least one school-age child (kindergarten through high school.) We will meet twice monthly, and we encourage you to drop in as often as you can. We will do a book or Bible study, combined with a video speaker, throughout the year. We will have light refreshments, and have plenty of visiting and discussion time at our tables with 4-6 other women.
Currently, there are no plans for childcare. However, please indicate on your registration if you would use it if it WERE available.
MOMS in the MIDDLE is a welcoming community for all moms to share experiences, learn from each other, and build friendships. Our mission is to encourage moms in their own growth, both spiritually and socially, equipping them to teach their children and impact their world.
Meetings are second and fourth Fridays of each month: 9:30 a.m. - 11:30 a.m., September - May
Costs:
Registration fee/first semester dues: $25 ($20 with early bird discount)

Second semester dues: undetermined, but no more than $15
Spring semester fees, if necessary, will be due in January.
We never want financial issues to keep anyone from being a part of MOMS in the MIDDLE, and we do offer scholarships when needed. Please contact Shelley Ailes at ShelleyAiles@gmail.com or 317-345-6894 to receive the scholarship information and application. All requests will be kept confidential.
We are happy that you are interested in joining MOMS in the MIDDLE and look forward to a great year!
For more information, please contact Coordinator Dena Laverty at denalaverty@att.net or 317-590-7198.
YA Bonfire
September 14th, 2018
Breathe- Women's Fall Retreat
September 21st - September 23rd, 2018
$50 - $175
The E91 Women's Retreat will be a beautiful weekend get-away in Southern Indiana! You will experience a carefully designed mix of free time, worship, teaching, and group activities that will provide the perfect environment for you to breathe in God's love and align your mind, body, and spirit with Jesus. Lori Orander will be sharing a fresh and vibrant message with us as our featured speaker.
During your free time, there will be various options for your enjoyment including hanging out on a beautiful deck in a rocking chair overlooking the lake, a leisurely walk on the camp grounds, a scenic and more rigorous prayer walk or hike on wooded trails, a guided praise poses exercise session, canoeing/kayaking, a low ropes course as a group, and archery. There are even comfy spots to simply read, relax and visit with one another.
Country Lake Christian Retreat Center - Main Lodge
815 Country Lake Road
Underwood, IN
September 21-23, 2018
Check in on Friday evening from 6:00-7:15pm
Program starts at 7:30
Check out on Sunday by 11:00
Cost is $125 per person for 4 person room and includes retreat accommodations, meals, snacks, and most activities. (Low Ropes Course and Archery are each available for $5 additional fee paid in cash at the time of the activity.) There are 10 rooms available for $175 per person for 2 person occupancy and will be filled on a first come first serve basis.
Room accommodations include 2 queen beds and private bathroom. You will be able to list any ladies you would like to room with, if desired, during the registration process.
Registration is also required if you plan to either just come for Saturday (without staying overnight) or plan to stay offsite at a local hotel. The conference and food fee is $50 per person.
Cancellation will result in a $10 fee to cover our charges.
If the cost of the retreat is too much for you to cover on your own, some assistance may be available, so please reach out and let us know.
If you are able to provide a donation to help those who may need financial assistance to attend the retreat, please indicate the amount of your donation through your online registration, or connect with an E91 staff or Women's Community team member.
Email kimtighe@comcast.net or melcampbell@comcast.net with questions.
YA Camping
October 12th - October 14th, 2018
YA Gleaners
November 3rd, 2018
YA Friendsgiving
November 16th, 2018
YA Ugly Sweater Christmas Party
December 14th, 2018